Lima Senior High School
Class Of 1962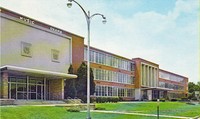 MARK YOUR CALENDAR!
60th Class Reunion
August 6, 2022
UNOH Event Center - 1450 N Cable Rd
$35.00 per person
A Kewpee Party is being planned as well
USPS mailing will be sent to all classmates who have attended at least one LSH 62 event in the last 10 years
Classmates who are active on the class wesite will not receive a post office mailing - electronic only!
MISSING CLASSMATES:

Be sure to look at the list of classmates with whom we have lost touch. Any assistance you can provide to locate them would be appreciated. Email info to

metzgerkathie@yahoo.com

.
WE'RE ON FACEBOOK: Thanks to Linda Dotson Seidman there is a Facebook group for our class - Lima Senior High Spartans/Class of '62. Many of your classmates are members. Join in the fun!