Lima Senior High School
Class Of 1962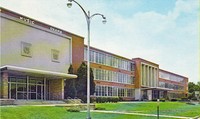 The LSH Class of 62 is coming up soon - August 5 & 6! The Wingate has notified us that they now have rooms available for a low rate. Call them at 419.228.7000 and tell them that you are with us. Hope to see you soon,
Kathie Coby Metzger
LSH 62 Reunion 2022
60th Reunion – Save the dates
Friday August 5 and Saturday August 6, 2022
It's that time again. As decided at the 55th reunion we are gathering together for our 60th reunion. Everyone can get caught up with old friends and classmates. The reunion committee has worked hard to set the stage for a good and memorable gathering of our school experience.
Locations: Friday evening August 5th at 5PM the Wingate Hotel lobby and patio. Get together with Kewpee Party (cheeseburger & fries) please advise with your registration if you have a special diet need.
Saturday evening August 6th @ 5PM. Cash Bar, followed by a Buffet @ UNOH (University of Northwest Ohio) event center, 1450 N Cable Road. Cost is $ 30.00 per-person. Reservations and payment due by July 15, 2022.
Class Web site: www.limasenior62.com
Face book: Lima Senior High Spartans/Class of '62
Accommodations: A block of rooms are not available at the Wingate, 175 W. Market. Phone # 419.228.7000. You can call the hotel and check on availability.
A second hotel, Fairfield Inn, 2179 Elida Road, Phone # 419.224.8496. Nightly rate is $ 104. Use group code: Lima Senior 62 High School Reunion. Only 10 rooms are available each night. First come first served!
If you have any questions or suggestions, please call Joe Bowsher @ 419.303.7649 or Kathie Coby Metzger @ 419.999.1288.
Please return check to Kathie Metzger @ 1141 Gloria Dr. Lima, Oh 45805 Check payable to LSH 62 . Return by July 15, 2022.
Confidential Financial assistance to attend the reunion is available for classmates and their guest. Call Joe or Kathie @ 419.303.7649 or 419.999.1288.
Register for the Reunion on the website above on the left side of the home page
Looking forward to seeing you for a fun weekend!
For those who are concerned with driving after dark several of us have discussed we have no problem picking you up and taking you back home/motel etc. also if there's that many the RTA in Lima would be happy to furnish transportation- just ask them.
Thanks, Nancy Buchanan Harper
MISSING CLASSMATES:

Be sure to look at the list of classmates with whom we have lost touch. Any assistance you can provide to locate them would be appreciated. Email info to

metzgerkathie@yahoo.com

.
WE'RE ON FACEBOOK: Thanks to Linda Dotson Seidman there is a Facebook group for our class - Lima Senior High Spartans/Class of '62. Many of your classmates are members. Join in the fun!