Lima Senior High School
Class Of 1962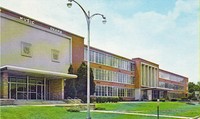 ANNOUNCEMENTS
LIMA VOLUNTEER NEEDED
I would like to continue adding classmate obituaries to the In Memory section of the web site. I've exhausted my online sources and now need a volunteer to retrieve obituaries at the Lima Public Library.
The process is fairly simple. I'll provide you with the names and newspaper dates. You retrieve the obit on microfilm and print it. You can then either scan and email the obits to me or send them by snail mail.
Never used a microfilm reader? No problem! The librarians will gladly assist you.
Dwane Grace (cdgrace62@gmail.com)
MISSING CLASSMATES:

Be sure to look at the list of classmates with whom we have lost touch. Any assistance you can provide to locate them would be appreciated. Email info to

metzgerkathie@yahoo.com

.
WE'RE ON FACEBOOK: Thanks to Linda Dotson Seidman there is a Facebook group for our class - Lima Senior High Spartans/Class of '62. Many of your classmates are members. Join in the fun!