Lima Senior High School
Class Of 1962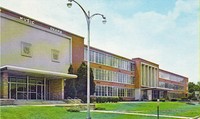 ANNOUNCEMENTS
Class of '62 Scholarships Awarded
On Thursday, May 29, 2014, Lima Senior Class of 1962 scholarships were awarded at the Senior Honors Convocation held in the Lima Senior High School gymnasium. Representing our class, classmate Bob Leonard presented scholarship checks to Joshua Boquist and Mildred Henderson.
Boquist will attend Malone University in Canton, Ohio, with a major in Education & Ministry. Henderson plans to major in Accounting at The Ohio State University.
This is the second year our graduating class has awarded two scholarships.
Please consider making a tax deductible donation to the Lima Senior High Class of 1962 Scholarship Fund. This is a way for us to invest in future generations and pay forward into the future of Lima and Allen County. You may mail your donation to: The Lima Community Foundation, PO Box 1086, Lima, Ohio 45802-1086 or make your donation electronically: limacommunityfoundation.org. Make sure you indicate LSH Class of 1962 on your donation.
Left to Right: Joshua Boquist, Bob Leonard, Mildred Henderson.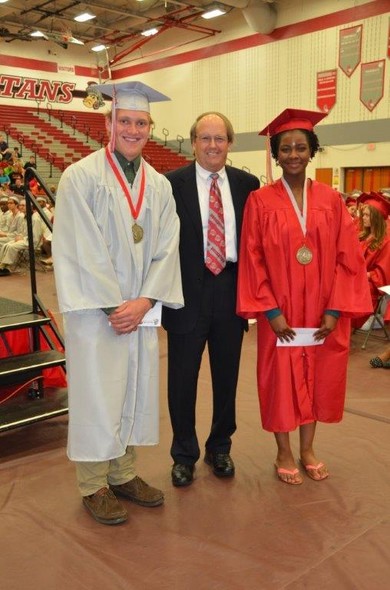 REUNION PHOTOS If you would like to share your photos from our reunion weekend, please send them to me (Jeanette Chambers). My email address is jchamber@columbus.rr.com. We'd like to have photos of classmates having fun during the Friday night Kewpie Party and Social Hour¸ tour of Lima Senior High School, visit to the Allen County Historical Society and of course, the Reunion Dinner/Dance on Saturday night. For photos with identifiable faces, please include names. Thanks! Jeanette
MISSING CLASSMATES: Be sure to look at the list of classmates with whom we have lost touch. Any assistance you can provide to locate them would be appreciated. Email info to metzgerkathie@yahoo.com.
WE'RE ON FACEBOOK: Thanks to Linda Dotson Seidman there is a Facebook group for our class - Lima Senior High Spartans/Class of '62. Many of your classmates are members. Join in the fun!