Lima Senior High School
Class Of 1962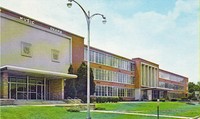 ANNOUNCEMENTS
It is with a heavy heart that I must pass along some sad news.Our classmate, William G. Hart, (Bill or Willie to most) passed away today 5/8/015 after a long illness. Rest in Peace, dear friend, we will miss your smiling face and many stories!! He is probably playing golf in heaven, as we speak.
Linda Dotson Seidman
Bill's obituary has been posted in the In Memory area.
Class of '62 Newsletter
Linda Dotson Seidman has volunteered to compile and edit an email newsletter for our class.
This occasional electronic publication will provide an convienent medium for us to keep in touch. "Subscribers" can share announcements of any kind, accomplishments, travels, health issues, surgeries, etc.
This is a private newsletter and will not appear on this website or Facebook.
Interested in subscribing and contributing? Email Linda: lsart3@aol.com.
MISSING CLASSMATES: Be sure to look at the list of classmates with whom we have lost touch. Any assistance you can provide to locate them would be appreciated. Email info to metzgerkathie@yahoo.com.
WE'RE ON FACEBOOK: Thanks to Linda Dotson Seidman there is a Facebook group for our class - Lima Senior High Spartans/Class of '62. Many of your classmates are members. Join in the fun!