Lima Senior High School
Class Of 1962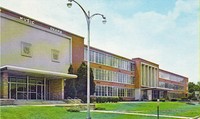 ANNOUNCEMENTS
THE LIST OF 55TH REUNION ATTENDEES has been updated. Check out who's planning to attend by going to "Classmate Profile" and then clicking on the event.
55th REUNION AUGUST 4 & 5, 2017
Friday - August 4 - Kewpee Party & Social Time
Time: 6:00 pm
Location: Wingate Hotel Lobby & Patio (175 W Market Street)
Cost: $5.00/person (Cheesburger, fries, frosty)
Saturday - August 5 - Dinner
Time: 6:00 pm Cocktails/ 7:00 pm Dinner
Location: UNOH Event Center (1450 N Cable Road)
Cost: $30.00/person
RESERVATION DEADLINE: July 1, 2017
FINANCIAL ASSISTANCE: The cost of the dinner can be underwritten for members who are not financially prepared to attend. Please contact Joe Bowsher at 419.303.7649.
ACCOMMODATIONS: A block of rooms has been reserved at the Wingate, 175 W Market Street. You may make reservations by calling the Wingate (419.228.7000). Use the group code "1962" for a nightly rate of $85.00 + tax.
A second hotel (Fairfield Inn, 2179 Elida Road) is very close to the UNOH Event Center. As of April 12, 2017, the room rate is $125.00 + tax with a AARP or AAA card. Reservations may be made by calling 419.224.8496.
Let's Reminisce!
Remember the excitement of the 1962 basketball tournament season? John Grinrod recently wrote an article for The Lima News recapping the season. You can read it at: http://limaohio.com/features/community/247301/1961-62-basketball-spartans-from-so-so-to-so-good-2
Note: Row 2 of the picture caption should read - Henry Horne, Mac Wagner, Robert Gunn, Harley Negin.
MISSING CLASSMATES:

Be sure to look at the list of classmates with whom we have lost touch. Any assistance you can provide to locate them would be appreciated. Email info to

metzgerkathie@yahoo.com

.
WE'RE ON FACEBOOK: Thanks to Linda Dotson Seidman there is a Facebook group for our class - Lima Senior High Spartans/Class of '62. Many of your classmates are members. Join in the fun!