Lima Senior High School
Class Of 1962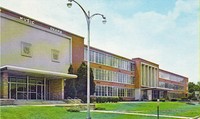 Is it time to update your profile?
Have you moved? New email address? New telephone number? Help us keep in touch!
It's easy! Just go to Edit Contact Info under Member Functions to update and/or correct your information. Use Edit Profile if you want to change or add to your profile.
MARK YOUR CALENDAR!
All birthdays are special, but some are more special than others. With this in mind, your reunion committee is planning a 1962 Diamond Birthday Celebration!
Plan now to join your classmates on Friday, August 2, 2019 at the Wingate hotel for a Kewpee Party and Saturday, August 3, 2019 for dinner at the UNOH Event Center to celebrate our milestone birthday.
---
MISSING CLASSMATES:

Be sure to look at the list of classmates with whom we have lost touch. Any assistance you can provide to locate them would be appreciated. Email info to

metzgerkathie@yahoo.com

.
WE'RE ON FACEBOOK: Thanks to Linda Dotson Seidman there is a Facebook group for our class - Lima Senior High Spartans/Class of '62. Many of your classmates are members. Join in the fun!