Lima Senior High School
Class Of 1962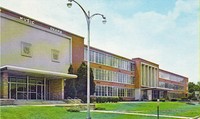 ANNOUNCEMENTS
SCHOLARSHIPS AWARDED
Class representative Bob Leonard recently presented $750 scholarships to Lima Senior 2017 graduates Loretta Lemaster (left) and Destiny Burk.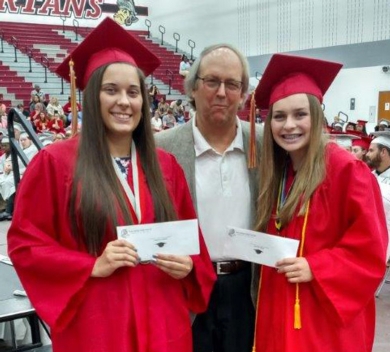 55th REUNION AUGUST 4 & 5, 2017
Friday - August 4 - Kewpee Party & Social Time
Time: 6:00 pm
Location: Wingate Hotel Lobby & Patio (175 W Market Street)
Cost: $5.00/person (Cheesburger, fries, frosty)
Saturday - August 5 - Dinner
Time: 6:00 pm Cocktails/ 7:00 pm Dinner
Location: UNOH Event Center (1450 N Cable Road)
Cost: $30.00/person
RESERVATION DEADLINE: July 1, 2017
FINANCIAL ASSISTANCE: The cost of the dinner can be underwritten for members who are not financially prepared to attend. Please contact Joe Bowsher at 419.303.7649.
ACCOMMODATIONS: A block of rooms has been reserved at the Wingate, 175 W Market Street. You may make reservations by calling the Wingate (419.228.7000). Use the group code "1962" for a nightly rate of $85.00 + tax.
A second hotel (Fairfield Inn, 2179 Elida Road) is very close to the UNOH Event Center. As of April 12, 2017, the room rate is $125.00 + tax with a AARP or AAA card. Reservations may be made by calling 419.224.8496.
MISSING CLASSMATES:

Be sure to look at the list of classmates with whom we have lost touch. Any assistance you can provide to locate them would be appreciated. Email info to

metzgerkathie@yahoo.com

.
WE'RE ON FACEBOOK: Thanks to Linda Dotson Seidman there is a Facebook group for our class - Lima Senior High Spartans/Class of '62. Many of your classmates are members. Join in the fun!