Lima Senior High School
Class Of 1962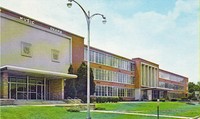 ANNOUNCEMENTS
We are saddened to learn of the death of classmate Dorothy Oliver McFadden in Indianapolis, Indiana. Her obituary has been posted in the In Memory area.
70th Birthday Party
On August 2, 2014 approximately 100 classmates gathered at The City Club to celebrate a significant milestone. It was great to visit with friends we hadn't seen in a while. And for those of us out-of-towners, we got to experience two-way traffic on Spring and Elm Streets, and back-in angle parking. And, of course, at least one trip to the Kewpee was on the agenda.

The birthday cake raffle was loads of fun and netted $1053 for the scholarship fund.
The cake raffle, the 50/50 drawing, and some significant donations resulted in over $4000 being raised for the scholarship fund.
A good time was had by all. Kudos to the planning committee!
Class of '62 Newsletter
Linda Dotson Seidman has volunteered to compile and edit an email newsletter for our class.
This occasional electronic publication will provide an convienent medium for us to keep in touch. "Subscribers" can share announcements of any kind, accomplishments, travels, health issues, surgeries, etc.
This is a private newsletter and will not appear on this website or Facebook.
Interested in subscribing and contributing? Email Linda: lsart3@aol.com.
MISSING CLASSMATES: Be sure to look at the list of classmates with whom we have lost touch. Any assistance you can provide to locate them would be appreciated. Email info to metzgerkathie@yahoo.com.
WE'RE ON FACEBOOK: Thanks to Linda Dotson Seidman there is a Facebook group for our class - Lima Senior High Spartans/Class of '62. Many of your classmates are members. Join in the fun!