Lima Senior High School
Class Of 1962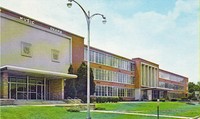 Reservation deadline extended to July 17!
Can you believe it? We're celebrating 75 trips around the Sun!
Join your classmates the first weekend of August for our 75th birthday party.
Friday, August 2: 6:00 PM - Kewpee Party at the Wingate Hotel (175 W Market St)
Saturday, August 3: 6:00 PM - Cocktails, 7:00 PM - Dinner at the University of Northwest Ohio Event Center (1450 N Cable Rd)
Additional event details may be found in the letter you received.
Make your reservations by July 1 by using the form you received in the mail or by using the online reservation form (click on 75th Birthday Party).
ACCOMMODATIONS:
Wingate Hotel, 175 W Market St, 419.228.7000. Use group code '1962' for a nightly rate of $85.00
Fairfield Inn, 2719 Elida Rd, 419.224.8496. Nightly rate is $125.00 (discount with AARP or AAA).
2019 Scholarships Awarded
The 2019 graduating class of Lima Senior High School held its Honors Convocation on Wednesday May 22. A total of 3.9 million dollars in grants and scholarships were awarded!
Classmate Bob Leonard represented us at the convocation and presented scholarship checks to four members of the class of 2019.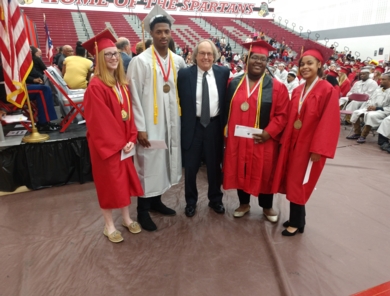 L-R: Hailey Bartels, Jaleel King, Bob Leonard, Arveonna Robertson, Precious Smith.
The 195 seniors will receive their diplomas during graduation ceremonies on Saturday, May 25.
To continue this fine tradition, please consider making a tax deductible donation to the Lima Senior High Class of 1962 Scholarship fund. This is a way for us to invest in future generations and pay forward into the future of Lima and Allen County.
You may mail your donation to: The Lima Community Foundation, PO Box 1086, Lima, OH 45802-1086 or make your donation electronically: http://limacommunityfoundation.org. Make sure you indicate LSH Class of 1962 on your donation.
Or, you can use the link on the right side of this page and mail your contribution to us and the donation will be forwarded to The Lima Community Foundation.
MISSING CLASSMATES:

Be sure to look at the list of classmates with whom we have lost touch. Any assistance you can provide to locate them would be appreciated. Email info to

metzgerkathie@yahoo.com

.
WE'RE ON FACEBOOK: Thanks to Linda Dotson Seidman there is a Facebook group for our class - Lima Senior High Spartans/Class of '62. Many of your classmates are members. Join in the fun!